Product Catalog of Virgin Remy Human Hair
There are many different kinds of extensions, made from synthetic, human and synthetic mixed and with 100% human hair. Still they can be categorized by their origin and styles. Virgin hairs are those which are not colored or bleached ever. Neither are they even treated with any kind of straightening and curling irons nor with chemical and conditioners.
Virgin hairs are the most beautiful and demanded type of hair throughout the world. Having extension with pure virgin hair, keeps the user worriless for long time. One who is on the market of extensions, weft or weaves will have no better option than buying a product with original human hairs and that is the reason, why extension manufacturing companies keep an eye on high quality virgin hair for sale. They buy these hairs and use them in their products such as weaves, wefts, and wigs etc. Its lastingness is unquestioned as its massive demand is the acknowledgement of its quality and the trust of end user. However, proper care and maintenance is to be ensured to keep it healthier and usable for longest time. Since, it is untouched in the sense, it is not dyed or treated with any chemicals, it can work for you more than a year. Its life can be enhanced by giving due time in maintenance and care just one would do for her natural hair.
Although, virgin hairs are naturally dark colored but you can dye them to match your original hairs. If you find virgin hair that are already dyed means that are not virgin. It sometimes becomes a challenge to find good quality products as many retailers are selling other hairs with the name of virgin. Even a lot of vendors do not know themselves about what virgin actually means.
Most of the times, people do not need to dye the hair because majority of people have dark colors. People with light-colored hairs are already less in number and out of them very few people need to use an extension. Some people with dark blond hairs are found in Russia and South America but it is a very rare case.
Virgin Hair for Sale by HaoSheng
Hao Sheng Hair Products Co. Ltd. serves the better part of extension users in its target markets. We design user friendly products with high quality human hairs. These kinds of hairs extensions are one of our main products; we have substantial sources of virgin hairs that we employ in manufacturing of top notch beauty products. We have a Total Quality Management System through which we ensure the quality of our products at each step of manufacture. We offer superior standard virgin hair for sale at very competitive prices with prompt delivery. We can export our items to all part of the world within the due delivery time.
Specifications
Grade: Virgin Remy
Style: Wavy
Type of Extension: Weaving
Weight: 100g per piece
Material: Original Human Hair
Brand: HaoSheng Hair
Size: 8 to 40 inches
Color: Natural
Quality: A
MOQ: 1 Piece
Packaging: Poly bag cartons
Shipping: DHL/FedEx/TNT/UPS/EMS
Payment Modes: Paypal, Western Union, MoneyGram, T/T
Remy Virgin Hair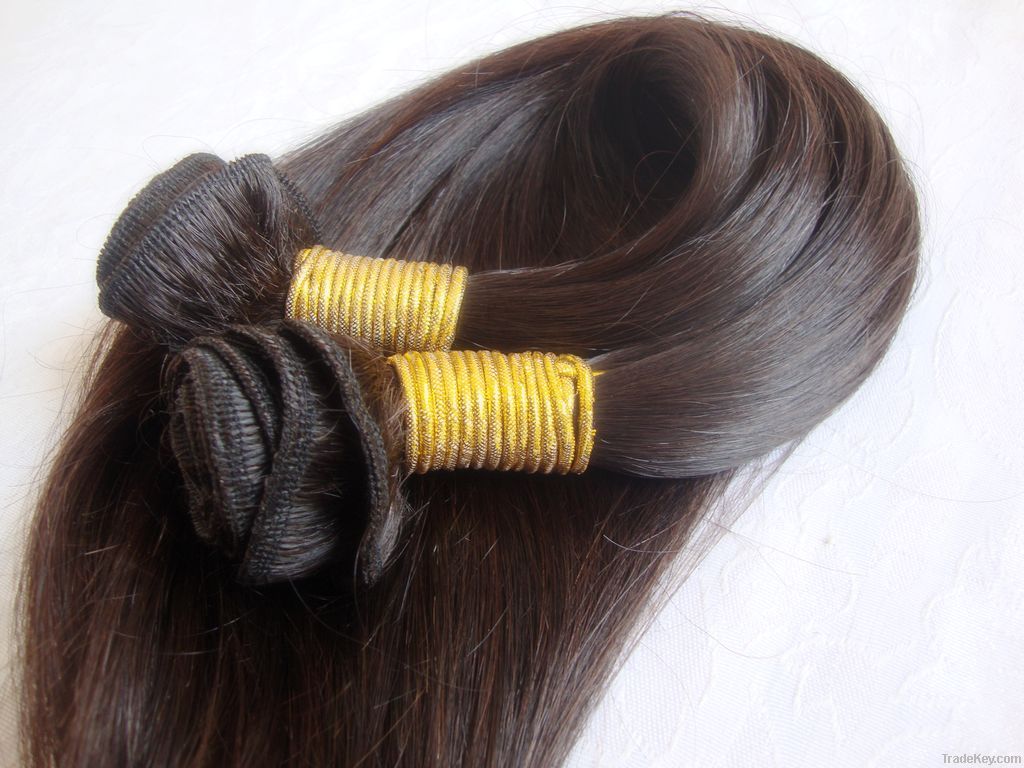 Rated
4
/5 based on
2
Customer Reviews
In stock
Product description:
Remy Virgin Hair for Sale by HaoSheng Hair Products Co. Ltd. Wavy and Straight Styles, Weaving Type Extension having 100g weight.
Customer reviews:
My Good Decision
- by
Kathy
, June 11, 2013
This changed my life, truly
Virgin hair are the best
- by
Tina Jones
, September 30, 2013
I bought haosheng virgin hair from a local salon and it is still in my use since a year.
...